Happy Halloween! Gaan jullie vandaag nog iets leuks doen? Morgen is het alweer november en dat betekent:
– Nanowrimo!
– Weer een stapje dichter bij Kerst!
– Nieuwe boeken! Er komen weer wat toffe boeken uit volgende maand. Tijd voor een overzichtje!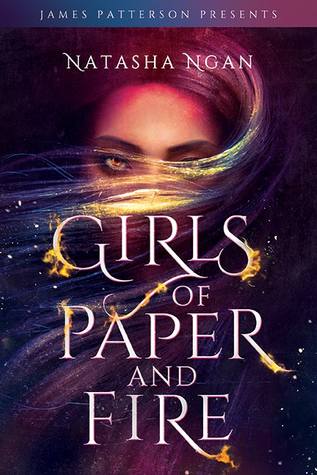 Natasha Ngan – Girls of Paper and Fire
Wat een prachtige cover, vinden jullie niet? (Al begrijp ik niet goed wat James Patterson met dit boek te maken heeft, maar goed). Dit is een YA Fantasy verhaal en hij lijkt mij erg tof. Hij komt uit op 6 november.
In this lush fantasy, Lei is a member of the Paper caste, the lowest and most oppressed class in Ikhara. She lives in a remote village with her father, where the decade-old trauma of watching her mother snatched by royal guards still haunts her. Now, the guards are back, and this time it's Lei they're after–the girl whose golden eyes have piqued the king's interest.
Over weeks of training in the opulent but stifling palace, Lei and eight other girls learn the skills and charm that befit being a king's consort. But Lei isn't content to watch her fate consume her. Instead, she does the unthinkable–she falls in love. Her forbidden romance becomes enmeshed with an explosive plot that threatens the very foundation of Ikhara, and Lei, still the wide-eyed country girl at heart, must decide just how far she's willing to go for justice and revenge.
Amy Wilson – Angel and Bavar
Dit boek heeft ook al zo'n prachtige cover! Dit is eerder een jeugdboek dan een YA en het is een hervertelling van Belle en het beest. I know, we hebben er al heel veel, maar zou je deze niet alleen al willen hebben voor de cover… Hij verschijnt op 6 november!
After the death of her parents, Angel has a lot to get used to: a new home, a new family, a new school. The last thing she's interested in is making new friends. Until she meets Bavar, a strange boy who slips through the shadows, a boy who might understand her nightmares.
But Bavar doesn't want to let anyone in. Everyone—and everything—in his enchanted house is already urging him to step up and protect the world from a magical rift and the fearsome monsters traveling through it, a responsibility he wishes he could ignore.
Then Bavar discovers that the monsters are the same ones that killed Angel's parents. Determined to stop the creatures for good, he reluctantly accepts Angel's help. Together, Angel and Bavar must find the courage to stand up for each other and themselves to repair the rift between worlds…before it's too late.
Jennifer Lynn Barnes – Little White Lies
Geen fantasy boek dit keer, maar een contemporary/mystery YA. Het klinkt een beetje als The Selection en The Princess Diaries, maar dan met een mystery twist eraan. Hij klinkt in ieder geval erg tof en verschijnt op 6 november.
Eighteen-year-old auto mechanic Sawyer Taft did not expect her estranged grandmother to show up at her apartment door and offer her a six-figure contract to participate in debutante season. And she definitely never imagined she would accept. But when she realizes that immersing herself in her grandmother's "society" might mean discovering the answer to the biggest mystery of her life-her father's identity-she signs on the dotted line and braces herself for a year of makeovers, big dresses, bigger egos, and a whole lot of bless your heart. The one thing she doesn't expect to find is friendship, but as she's drawn into a group of debutantes with scandalous, dangerous secrets of their own, Sawyer quickly discovers that her family isn't the only mainstay of high society with skeletons in their closet. There are people in her grandmother's glittering world who are not what they appear, and no one wants Sawyer poking her nose into the past. As she navigates the twisted relationships between her new friends and their powerful parents, Sawyer's search for the truth about her own origins is just the beginning.
Michael Marshall Smith – Hannah green and her unfeasibly mundane existence
Dit is wel weer een YA Fantasy. De cover doet me een beetje denken aan een combinatie van Alice en The bear and the Nightingale. De omslagtekst is vrij kort, dus ik heb nog niet echt een heel duidelijk beeld van het boek, maar wat er staat klinkt wel cool. Het boek verschijnt op 6 november.
From the critically-acclaimed author of Only Forward comes a delightful new tale about Hannah, a young girl living a mundane existence in California, who discovers that her grandfather has been friends with the Devil for the past 150 years . . . and now, they need her help.
Joanne M. Harris – A Pocketful of Crows
Volgens mij is het de maand van de mooie covers. Deze is ook al weer zo pretty. Ik heb nog nooit eerder een boek van Joanne Harris gelezen maar deze spreekt me wel heel erg aan. Het is sprookjesachtige fantasy voor volwassenen en verschijnt, wederom, op 6 november.
I am as brown as brown can be,
And my eyes as black as sloe;
I am as brisk as brisk can be,
And wild as forest doe.
(The Child Ballads, 295)
So begins a beautiful tale of love, loss and revenge. Following the seasons, A Pocketful of Crows balances youth and age, wisdom and passion and draws on nature and folklore to weave a stunning modern mythology around a nameless wild girl.
Only love could draw her into the world of named, tamed things. And it seems only revenge will be powerful enough to let her escape.
Beautifully illustrated by Bonnie Helen Hawkins, this is a stunning and original modern fairytale.
Welke boeken willen jullie gaan lezen in november?