Een nieuwe maand, tijd voor nieuwe boeken! Oktober is begonnen en dat geldt ook voor de heerlijke herfst. Hier was net al een prachtige herfststorm waar de zon nog net door scheen en de blaadjes liggen al op de grond. Heerlijk! Het perfecte weer om lekker op de bank te zitten met een dekentje, een kat en een goed boek. En wat komen er mooie boeken uit deze maand! Tijd voor een overzichtje.



Megan Sheperd – Grim Lovelies
Oktober betekent niet alleen herfst, maar ook Halloween! En volgens mij past dit boek daar perfect bij! Het is het eerste deel in een serie en hij klinkt erg tof! Morgen (2 oktober) verschijnt hij in de boekhandel.
Seventeen-year-old Anouk envies the human world, where people known as Pretties lavish themselves in fast cars, high fashion, and have the freedom to fall in love. But Anouk can never have those things, because she is not really human. Enchanted from animal to human girl and forbidden to venture beyond her familiar Parisian prison, Anouk is a Beastie: destined for a life surrounded by dust bunnies and cinders serving Mada Vittora, the evil witch who spelled her into existence. That is, until one day she finds her mistress murdered in a pool of blood—and Anouk is accused of the crime.
Now, the world she always dreamed of is rife with danger. Pursued through Paris by the underground magical society known as the Haute, Anouk and her fellow Beasties only have three days to find the real killer before the spell keeping them human fades away. If they fail, they will lose the only lives they've ever known…but if they succeed, they could be more powerful than anyone ever bargained for.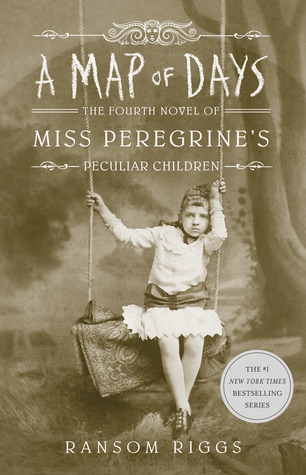 Ransom Riggs – A map of days (Miss Peregrine #4)
Ik weet niet hoe ik heb gemist dat deze eraan zat te komen. Ik dacht dat de trilogie was afgelopen. Maar hoezee, een nieuw deel is vanaf morgen (2 oktober) te krijgen! Ik kan niet wachten!
Vintage photographs reveal the never-before-seen world of peculiar America with a stunning addition—full-color images.
Having defeated the monstrous threat that nearly destroyed the peculiar world, Jacob Portman is back where his story began, in Florida. Except now Miss Peregrine, Emma, and their peculiar friends are with him, and doing their best to blend in. But carefree days of beach visits and normalling lessons are soon interrupted by a discovery—a subterranean bunker that belonged to Jacob's grandfather, Abe.
Clues to Abe's double-life as a peculiar operative start to emerge, secrets long hidden in plain sight. And Jacob begins to learn about the dangerous legacy he has inherited—truths that were part of him long before he walked into Miss Peregrine's time loop.
Now, the stakes are higher than ever as Jacob and his friends are thrust into the untamed landscape of American peculiardom—a world with few ymbrynes, or rules—that none of them understand. New wonders, and dangers, await in this brilliant next chapter for Miss Peregrine's peculiar children. Their story is again illustrated throughout by haunting vintage photographs, but with a striking addition for this all-new, multi-era American adventure—full color.
April Genevieve Tucholke – The boneless mercies
Een fantasy standalone met wederom een fantastische cover. Het is tevens een hervertelling, heb ik me laten vertellen, van Beowulf. Ik vind hem super tof klinken en kan niet wachten! Ook deze komt morgen uit, op 2 oktober.

A dark standalone YA fantasy about a band of mercenary girls in search of female glory.
Frey, Ovie, Juniper, and Runa are the Boneless Mercies—girls hired to kill quickly, quietly, and mercifully. But Frey is weary of the death trade and, having been raised on the heroic sagas of her people, dreams of a bigger life.
When she hears of an unstoppable monster ravaging a nearby town, Frey decides this is the Mercies' one chance out. The fame and fortune of bringing down such a beast would ensure a new future for all the Mercies. In fact, her actions may change the story arc of women everywhere.
Elana K. Arnold – Damsel
Al die mooie fantasy YA kaften van oktober! Deze is ook al zo prachtig. Ook dit verhaal klinkt super spannend, al heb ik het idee dat ik de premise ergens anders al tegen ben gekomen… Anyway, ook dit boek komt uit op 2 oktober. (Ik moet echt naar de boekhandel rennen, morgen…)
The rite has existed for as long as anyone can remember: when the prince-who-will-be-king comes of age, he must venture out into the gray lands, slay a fierce dragon, and rescue a damsel to be his bride. This is the way things have always been.
When Ama wakes in the arms of Prince Emory, however, she knows none of this. She has no memory of what came before she was captured by the dragon, or what horrors she has faced in its lair. She knows only this handsome prince, the story he tells of her rescue, and her destiny to sit on the throne beside him. Ama comes with Emory back to the kingdom of Harding, hailed as the new princess, welcomed to the court.
However, as soon as her first night falls, she begins to realize that not all is as it seems, that there is more to the legends of the dragons and the damsels than anyone knows–and that the greatest threats to her life may not be behind her, but here, in front of her.
Lauren Oliver – Broken things
Het laatste boek in deze post die morgen zal verschijnen is een combinatie van mystery en fantasy. Ik heb eerder al iets van Lauren Oliver gelezen, en dat vond ik helemaal niks, maar toch spreekt dit boek me erg aan. Wederom is ook de cover weer prachtig.

It's been five years since Summer Marks was brutally murdered in the woods.
Everyone thinks Mia and Brynn killed their best friend. That driven by their obsession with a novel called The Way into Lovelorn the three girls had imagined themselves into the magical world where their fantasies became twisted, even deadly.
The only thing is: they didn't do it.
On the anniversary of Summer's death, a seemingly insignificant discovery resurrects the mystery and pulls Mia and Brynn back together once again. But as the lines begin to blur between past and present and fiction and reality, the girls must confront what really happened in the woods all those years ago—no matter how monstrous.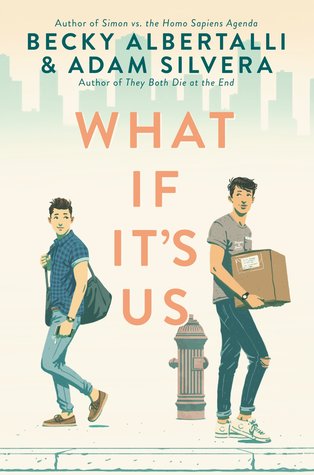 Becky Albertalli & Adam Silvera – What if it's us?
Ik ben vast niet de enige die op dit boek aan het wachten is? De combinatie van deze auteurs kan ik niet weerstaan. Becky Albertalli kennen we natuurlijk van Simon en Adam Silvera is de briljante auteur van They both die at the end. Wowie. Topauteurs! En hun nieuwe boek komt 9 oktober!

Arthur is only in New York for the summer, but if Broadway has taught him anything, it's that the universe can deliver a showstopping romance when you least expect it.
Ben thinks the universe needs to mind its business. If the universe had his back, he wouldn't be on his way to the post office carrying a box of his ex-boyfriend's things.
But when Arthur and Ben meet-cute at the post office, what exactly does the universe have in store for them?
Maybe nothing. After all, they get separated.
Maybe everything. After all, they get reunited.
But what if they can't quite nail a first date . . . or a second first date . . . or a third?
What if Arthur tries too hard to make it work . . . and Ben doesn't try hard enough?
What if life really isn't like a Broadway play?
But what if it is?
Jacqueline West – The collectors
Geen YA, maar jeugd dit keer. Een fantasy wereld die me doet denken aan The land of neverendings, een boek waar ik super blij van werd. Hopelijk is deze net zo tof! Hij komt uit op 9 oktober.
Look closely.
Do you see that marble in the grass? The tiny astronaut with one arm raised? The old-fashioned key in the gutter?
Van sees them. Van notices all sorts of things. But usually no one notices Van. He's small, and always the new kid, easy to overlook. But one day he watches a mysterious girl and a silver squirrel dive into a fountain to steal a coin.
And—even more strange—they notice Van.
Suddenly, the world changes for Van. It becomes a place where wishes are real. A place where wishes can be collected, just like his little treasures. A place where wishes can come true.
But that's not always a good thing.
Not all wishes are good, you see, and even good wishes can have unintended consequences.
And Van is about to find out just how big those consequences can be.
Jennifer Yu – Imagine us happy
Een young adult over mental health issues, namelijk depressie. Het boek klinkt als een Rainbow Rowell achtig verhaal en ook hier is de cover weer prachtig. Dit boek verschijnt op 23 oktober.
Stella lives with depression, and her goals for junior year are pretty much limited to surviving her classes, staying out of her parents' constant fights and staving off unwanted feelings enough to hang out with her friends Lin and Katie.
Until Kevin. A quiet, wry senior who understands Stella and the lows she's going through like no one else. With him, she feels less lonely, listened to—and hopeful for the first time since ever…
But to keep that feeling, Stella lets her grades go and her friendships slide. And soon she sees just how deep Kevin's own scars go. Now little arguments are shattering. Major fights are catastrophic. And trying to hold it all together is exhausting Stella past the breaking point. With her life spinning out of control, she's got to figure out what she truly needs, what's worth saving—and what to let go.
Amy Rose Capetta – the Brillliant Death
Wederom een prachtige cover voor een YA fantasy verhaal. Dit verhaal lijkt me origineel en daar hou ik altijd wel van. Een dochter van een maffiabaas die de vijanden in voorwerpen verandert. Klinkt cool. Een soort Riverdale meets Sabrina, mogelijk? Hij verschijnt op 30 oktober.
All her life, Teodora has hidden the fact that she secretly turns her family's enemies into music boxes, mirrors, and other decorative objects. After all, everyone in Vinalia knows that stregas—wielders of magic—are figures out of fairytales. Nobody believes they're real.
Then the Capo, the land's new ruler, sends poisoned letters to the heads of the Five Families that have long controlled Vinalia. Four lie dead and Teo's beloved father is gravely ill. To save him, Teo must travel to the capital as a DiSangro son—not merely disguised as a boy, but transformed into one.
Enter Cielo, a strega who can switch back and forth between male and female as effortlessly as turning a page in a book. Teo and Cielo journey together to the capital, and Teo struggles to master her powers and to keep her growing feelings for Cielo locked in her heart. As she falls in love with witty, irascible Cielo, Teo realizes how much of life she's missed by hiding her true nature. But she can't forget her mission, and the closer they get to the palace, the more sinister secrets they uncover about what's really going on in their beloved country—and the more determined Teo becomes to save her family at any cost.
Lisa Papademetriou – Dreamway
(zeg dat maar eens drie keer achter elkaar). Het laatste boek in deze post is wederom een boek voor de jeugd, over een fantasiewereld die te maken heeft met je dromen. Voor wie mij kent, weet dat dit echt helemaal mijn jam is, dus deze moet ik natuurlijk lezen. Hij komt uit op 30 oktober.
Every night, your sleeping body stays in your bed, while the you of you travels deep beneath the earth to ride the complex rails of the Dreamway….
Stella Clay thought it was just another ordinary day at her drab gray school. Then her twin brother, Cole, is attacked by a shadowy creature on their way home, and Stella's world turns positively peculiar. Suddenly, her brother seems different, almost dimmer, like a candle about to flicker out.
And then a talking mouse shows up in her bedroom.
Stella discovers that the real Cole has been taken prisoner in the Dreamway. Determined to find him, she sets out with the "help" of a stuck-up rodent, a nervous dragonfly, and a mysterious pirate, and finds her way to the darkest edge of the Dreamway to bring her brother home…before he's trapped forever.
In this allegorical exploration of childhood depression, with a moving author note that follows, Lisa Papademetriou gently and safely illustrates for her readers the emotional effects of anger, anxiety, and insecurity—and illuminates a pathway to hope and recovery.
Er komen dus een heleboel prachtige boeken uit deze maand! Waar kijken jullie het meest naar uit?