Jeetje, augustus is voorbij gevlogen, vinden jullie ook niet? Zon, zomer en veel leuke dingen en mooie boeken. Nu is het alweer september en ook in deze maand komen er weer een aantal prachtige boeken op de markt! Lees verder voor de tofste nieuwe boeken in september!


Patrick Ness – And the ocean was our sky
Joehoe, nieuw boek van Patrick Ness in september! We beginnen gelijk met de beste! (al heb ik stiekem nog steeds wat boeken van hem waar ik nog niet aan toegekomen ben, shame on me!). In ieder geval, dit boek is een adaptatie van Moby Dick en ik kan niet wachten om hem te lezen. Het is een YA en ik zag ergens ook staan dat het een graphic novel wordt. Ik ben super benieuwd! Hieronder de omslagtekst. Het boek komt uit op 4 september
With harpoons strapped to their backs, the proud whales of Bathsheba's pod live for the hunt, fighting in the ongoing war against the world of men. When they attack a ship bobbing on the surface of the Abyss, they expect to find easy prey. Instead, they find the trail of a myth, a monster, perhaps the devil himself…
As their relentless Captain leads the chase, they embark on a final, vengeful hunt, one that will forever change the worlds of both whales and men.
Nancy Richardson Fischer – When Elephants Fly
First of all, wat een prachtige cover, vinden jullie niet? Ik ken de auteur niet maar het boek klonk me goed in de oren. Het is een contemporary YA over familie, mentale problemen en babyolifantjes en wordt gepubliceerd op 4 september.
T. Lily Decker is a high school senior with a twelve-year plan: avoid stress, drugs, alcohol and boyfriends, and take regular psych quizzes administered by her best friend, Sawyer, to make sure she's not developing schizophrenia.Genetics are not on Lily's side. 
When she was seven, her mother, who had paranoid schizophrenia, tried to kill her. And a secret has revealed that Lily's odds are even worse than she thought. Still, there's a chance to avoid triggering the mental health condition, if Lily can live a careful life from ages eighteen to thirty, when schizophrenia most commonly manifests.
But when a newspaper internship results in Lily witnessing a mother elephant try to kill her three-week-old calf, Swifty, Lily can't abandon the story or the calf. With Swifty in danger of dying from grief, Lily must choose whether to risk everything, including her sanity and a first love, on a desperate road trip to save the calf's life, perhaps finding her own version of freedom along the way.
Steven Camden – Nobody Real
Wederom een auteur die ik niet ken, en een Young Adult contemporary. Dit boek is echter wat luchtiger dan het bovenstaande boek. De omslagtekst doet mij in ieder geval denken aan Rainbow Rowell en ik word vrolijk van de cover!
Release datum: 4 september
Marcie is at a crossroads.
Finished with school, but unsure what she wants to do next. Abandoned by her mother when she was tiny – but drifting further and further from her dad.
Marcie is real. With real problems.
Thor is at a crossroads too.
Soon, if he doesn't make a decision, he's gong to face the fade. Years ago, he was Marcie's imaginary friend – then she cast him out, back to his own world.
Thor is not real. And that's a real problem…
But Marcie and Thor need each other. And to fix their lives, they're going to have to destroy everything… and then build a new world.
Susin Nielsen – No fixed address
Ook dit boek is een YA contemporary met als thema mental ilness. Susin Nielsen kennen we natuurlijk van We are all made of molecules (klik) en Optimists die first. Ik vind haar schrijfstijl erg prettig leesbaar en dit boek klinkt goed en is dus een welkome toevoeging aan dit lijstje. Op 11 september wordt ie gepubliceerd!
Felix Knuttson, twelve, is an endearing kid with an incredible brain for trivia. His mom Astrid is loving but unreliable; she can't hold onto a job, or a home. When they lose their apartment in Vancouver, they move into a camper van, just for August, till Astrid finds a job. September comes, they're still in the van; Felix must keep "home" a secret and give a fake address in order to enroll in school. Luckily, he finds true friends. As the weeks pass and life becomes grim, he struggles not to let anyone know how precarious his situation is. When he gets to compete on a national quiz show, Felix is determined to win — the cash prize will bring them a home. Their luck is about to change! But what happens is not at all what Felix expected.
Marie Lu – Wildcard
Deze maand komt ook het tweede deel van Warcross uit. En hoewel ik deel één vond tegenvallen (klik) ben ik wel nieuwsgierig naar hoe het verder gaat. (lees: of het nog ongeloofwaardiger wordt) Ik zal hem waarschijnlijk niet gelijk deze maand gaan lezen, maar hij kon toch niet op het lijstje ontbreken. Hij komt 18 september uit.
Emika Chen barely made it out of the Warcross Championships alive. Now that she knows the truth behind Hideo's new NeuroLink algorithm, she can no longer trust the one person she's always looked up to, who she once thought was on her side.
Determined to put a stop to Hideo's grim plans, Emika and the Phoenix Riders band together, only to find a new threat lurking on the neon-lit streets of Tokyo. Someone's put a bounty on Emika's head, and her sole chance for survival lies with Zero and the Blackcoats, his ruthless crew. But Emika soon learns that Zero isn't all that he seems–and his protection comes at a price.
Caught in a web of betrayal, with the future of free will at risk, just how far will Emika go to take down the man she loves?
 Jen Doll – Unclaimed baggage
Dit boek sprak me vooral aan vanwege de cover. Is ie niet schattig? Anyway, het boek is een YA contemporary met een toffe setting: De personages verkopen achtergebleven, niet opgehaalde bagage maar zelf ook wel wat emotionele bagage hebben. Wederom doet dit boek me denken aan Rainbow Rowell. Hij komt uit op 18 september.
Doris–a lone liberal in a conservative small town–has mostly kept to herself since the terrible waterslide incident a few years ago. Nell had to leave behind her best friends, perfect life, and too-good-to-be-true boyfriend in Chicago to move to Alabama. Grant was the star quarterback and epitome of "Mr. Popular" whose drinking problem has all but destroyed his life. What do these three have in common? A summer job working in a store called Unclaimed Baggage cataloging and selling other people's lost luggage. Together they find that through friendship, they can unpack some of their own emotional baggage and move on into the future.
Hank Green – An absolutely remarkable thing
Wederom een YA contemporary. Er zijn er veel deze maand! Dit boek begint met iets wat mogelijk wel fantasy kan zijn: een sculptuur genaamd 'Carl' die ineens overal ter wereld opduiken. Dit trok mijn aandacht, alhoewel het verhaal van de hoofdpersoon me wat minder aansprak. Het boek komt uit op 25 september.
The Carls just appeared. Coming home from work at three a.m., twenty-three-year-old April May stumbles across a giant sculpture. Delighted by its appearance and craftsmanship–like a ten-foot-tall Transformer wearing a suit of samurai armor–April and her friend Andy make a video with it, which Andy uploads to YouTube. The next day April wakes up to a viral video and a new life. News quickly spreads that there are Carls in dozens of cities around the world–everywhere from Beijing to Buenos Aires–and April, as their first documentarian, finds herself at the center of an intense international media spotlight.
Now April has to deal with the pressure on her relationships, her identity, and her safety that this new position brings, all while being on the front lines of the quest to find out not just what the Carls are, but what they want from us.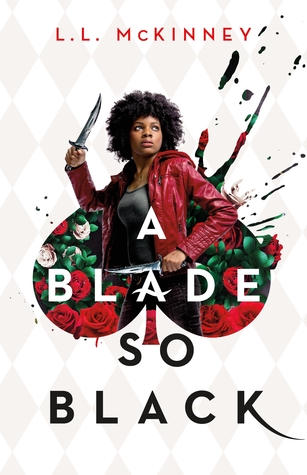 L.L. Mckinney – A blade so black
Je zou denken dat ik de Alice adaptaties ooit zat zou zijn, maar tot nu toe is dat nog niet het geval. Want dit boek is er weer een! En het klinkt als een echt badass verhaal. Hij komt uit op 25 september.
The first time the Nightmares came, it nearly cost Alice her life. Now she's trained to battle monstrous creatures in the dark dream realm known as Wonderland with magic weapons and hardcore fighting skills. Yet even warriors have a curfew.
Life in real-world Atlanta isn't always so simple, as Alice juggles an overprotective mom, a high-maintenance best friend, and a slipping GPA. Keeping the Nightmares at bay is turning into a full-time job. But when Alice's handsome and mysterious mentor is poisoned, she has to find the antidote by venturing deeper into Wonderland than she's ever gone before. And she'll need to use everything she's learned in both worlds to keep from losing her head . . . literally.
Amy Lukavics – Nightingale
Dit boek is heel anders dan bovengenoemde boeken. Het heeft bijzonder veel categoriseringen op goodreads, waarvan de grootste horror, young adult en historische fictie. Het verhaal klinkt echt intrigerend en creepy en ik zou het graag lezen. Ook de cover is best wel eng. Hij komt uit op 25 september.
At seventeen, June Hardie is everything a young woman in 1951 shouldn't be—independent, rebellious, a dreamer. June longs to travel, to attend college and to write the dark science fiction stories that consume her waking hours. But her parents only care about making June a better young woman. Her mother grooms her to be a perfect little homemaker while her father pushes her to marry his business partner's domineering son. When June resists, her whole world is shattered—suburbia isn't the only prison for different women…
June's parents commit her to Burrow Place Asylum, aka the Institution. With its sickening conditions, terrifying staff and brutal "medical treatments," the Institution preys on June's darkest secrets and deepest fears. And she's not alone. The Institution terrorizes June's fragile roommate, Eleanor, and the other women locked away within its crumbling walls. Those who dare speak up disappear…or worse. Trapped between a gruesome reality and increasingly sinister hallucinations, June isn't sure where her nightmares end and real life begins. But she does know one thing: in order to survive, she must destroy the Institution before it finally claims them all.
Rena Rossner – The sisters of the winter wood
Dit boek is een sprookje, magisch realisme en YA. De cover is super pretty maar ook het verhaal klinkt veelbelovend. Dit sprookje komt uit op 25 september.
Raised in a small village surrounded by vast forests, Liba and Laya have lived a peaceful sheltered life – even if they've heard of troubling times for Jews elsewhere. When their parents travel to visit their dying grandfather, the sisters are left behind in their home in the woods.
But before they leave, Liba discovers the secret that their Tati can transform into a bear, and their Mami into a swan. Perhaps, Liba realizes, the old fairy tales are true. She must guard this secret carefully, even from her beloved sister.
Soon a troupe of mysterious men appear in town and Laya falls under their spell-despite their mother's warning to be wary of strangers. And these are not the only dangers lurking in the woods…
The sisters will need each other if they are to become the women they need to be – and save their people from the dark forces that draw closer.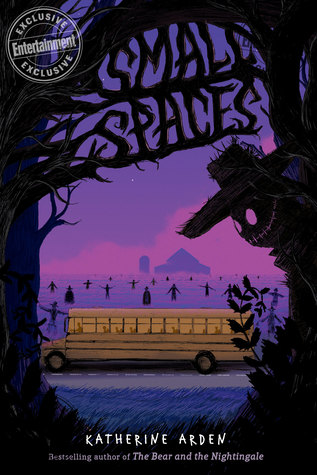 Katherine Arden – Small spaces
Het laatste boek dat ik noem, is een boek van de auteur van The Bear and the Nightingale. Ik heb deze nog steeds niet gelezen, ook nog niets anders van Arden, maar al haar covers zijn zo prachtig dat ik er wel altijd kwijlend naar kijk in de boekwinkel.
Dit is een horror fantasy verhaal en het klinkt super spannend! Hij komt uit op 25 september.
When eleven-year-old Ollie lost her mother in a plane crash, she sought solace in her books. So when she stumbles upon a distraught woman standing on the banks of the river intent on throwing a book into the water, Ollie stops her, steals the book and rides away on her bike. Upon reading, Ollie discovers a chilling ghost story about a girl, Elizabeth Morrison, who is being chased through cornfields filled with scarecrows by two brothers with deadly intent. When she finds the graves of Elizabeth Morrison and her tormentors, Jonathan and Caleb, on a farm during a school trip, on a day already full of odd occurrences, Ollie starts to think this book is more than just a book.
On the ride home, the school bus breaks down along the side of the road and none of the kids or their teacher can get service on their cell phones to call for help. And then Ollie's digital wristwatch starts a mysterious countdown, with the word RUN spelled out on the face. She and two unlikely new friends are the only ones to heed its warning. As night begins to fall, they head out into the woods, bracketed by fearsome scarecrows. The bus driver gives them a word of advice. In order to survive whatever is coming, they'll need to keep to small spaces.
Naar welke boeken kijken jullie het meest uit in september?