(Ik moet echt even wat meer algemene foto's maken voor dit soort posts. Anyway, hier zijn boeken en katten dus dat is tot die tijd ook wel leuk)
Hoi allemaal! Hoi Augustus! Een nieuwe maand, tijd voor nieuwe boeken! En wat komen er toch toffe boeken uit deze maand! Tijd voor een overzichtje!
Amy McCullough – Jinxed
Wat een prachtige cover, vinden jullie niet? Maar ook het verhaal lijkt me heel tof. Het doet me een beetje denken aan Fuzzie van Hannah Bervoets – of althans, mijn beeld van dat boek voordat ik het las. Het verhaal gaat over robotdieren die tevens als telefoon functioneren. Ik hou altijd wel van verhaal met dit soort fantasiewezentjes. Ik wil deze erg graag lezen! Het boek komt uit op 9 augustus. Zie hieronder de omslagtekst:
Lacey Chu has big dreams of becoming a companioneer for MONCHA, the largest tech firm in North America and the company behind the  "baku" – a customisable smart pet that functions as a phone but makes the perfect companion too. When Lacey finds out she hasn't been accepted into Profectus – the elite academy for cutting edge tech – it seems her dreams are over. Worst of all, rather than getting to choose one of the advanced bakus, she's stuck with a rubbish insect one.
Then, one night, Lacey comes across the remains of an advanced baku. Once it might've been in the shape of a cat but it's now mangled and broken, no sign of electronic life behind its eyes. Days of work later and the baku opens its eyes. Lacey calls him Jinx – and Jinx opens up a world for her that she never even knew existed, including entry to the hallowed halls of Profecus. Slowly but surely, Jinx becomes more than just a baku to Lacey – he becomes her perfect companion. But what is Jinx, really? His abilities far surpass anything written into his code or built into his motherboard. He seems to be more than just a robotic pet. He seems … real.


Toil & Trouble – 15 tales of women & witchcraft
Zowel de titel als de cover van deze verhalenbundel zijn al fantastisch. Hoewel ik geen van de auteurs ken die iets hebben bijgedragen aan deze bundel, ben ik er toch erg nieuwsgierig naar. De omslagtekst noemt 'bekende' heksen als Glinda, Sabrina en Willow (ik ben fan van Buffy dus ik ben héél blij dat zij ook genoemd wordt). Een bundel over heksen en hekserij dus. Perfect voor Halloween, al duurt dat nog eventjes! Het boek komt 28 augustus uit.
A young adult fiction anthology of 15 stories featuring contemporary, historical, and futuristic stories featuring witchy heroines who are diverse in race, class, sexuality, religion, geography, and era.
Are you a good witch or a bad witch?
Glinda the Good Witch. Elphaba the Wicked Witch. Willow. Sabrina. Gemma Doyle. The Mayfair Witches. Ursula the Sea Witch. Morgan le Fey. The three weird sisters from Macbeth.
From good witches to bad witches, to witches who are a bit of both, this is an anthology of diverse witchy tales from a collection of diverse, feminist authors. The collective strength of women working together—magically or mundanely–has long frightened society, to the point that women's rights are challenged, legislated against, and denied all over the world. Toil & Trouble delves deep into the truly diverse mythology of witchcraft from many cultures and feminist points of view, to create modern and unique tales of witchery that have yet to be explored.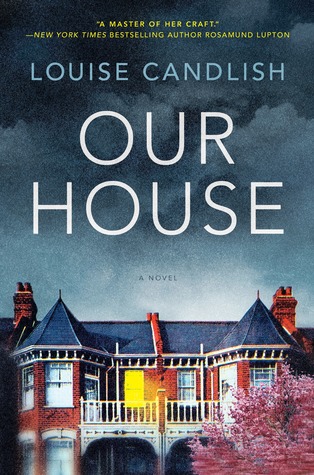 Louise Candlish – Our house
Bovenstaande boeken zijn YA. Dit boek is een mysterie thriller voor volwassenen. Een genre dat ik niet vaak op pik. Maar de omslagtekst klonk erg intrigerend en spannend en ook hier is de cover prachtig. Op 7 augustus komt dit boek uit.
When Fiona Lawson comes home to find strangers moving into her house, she's sure there's been a mistake. She and her estranged husband, Bram, have a modern co-parenting arrangement: bird's nest custody, where each parent spends a few nights a week with their two sons at the prized family home to maintain stability for their children. But the system built to protect their family ends up putting them in terrible jeopardy. In a domino effect of crimes and misdemeanors, the nest comes tumbling down.
Now Bram has disappeared and so have Fiona's children. As events spiral well beyond her control, Fiona will discover just how many lies her husband was weaving and how little they truly knew each other. But Bram's not the only one with things to hide, and some secrets are best kept to oneself, safe as houses.
Katie Henry – Heretics Anonymous
Een iets minder sprankelende cover dit keer, maar wel een tof verhaal, vermoed ik. Dit boek is wel weer YA, maar weer anders dan bovengenoemde boeken; dit is namelijk een contemporary. Het klinkt een beetje als de boeken van Rainbow Rowell en ik ben erg nieuwsgierig. Hij komt uit op 7 augustus.
Michael is an atheist. So as he walks through the doors at St. Clare's—a strict Catholic school—sporting a plaid tie, things can't get much worse. His dad has just made the family move again, and Michael needs a friend. When a girl challenges their teacher in class, Michael thinks he might have found one, and a fellow nonbeliever at that. Only this girl, Lucy, is not just Catholic . . . she wants to be a priest.
But Lucy introduces Michael to other St. Clare's outcasts, and he officially joins Heretics Anonymous, where he can be an atheist, Lucy can be an outspoken feminist, Avi can be Jewish and gay, Max can wear whatever he wants, and Eden can practice paganism. After an incident in theology class, Michael encourages the Heretics to go from secret society to rebels intent on exposing the school's hypocrisies. When Michael takes one mission too far—putting the other Heretics at risk—he must decide whether to fight for his own freedom, or rely on faith, whatever that means, in God, his friends, or himself.
Janet McNally – The looking glass
Dit boek is net als de vorige een contemporary YA, al belooft de omslagtekst ook wat sprookjesachtige fantasy-elementen. Het klinkt een beetje als Hazel Wood. en die was super tof! Ik vraag me af of deze net zo goed is. Hij zal gepubliceerd worden op 14 augustus.
GIRLS IN TROUBLE.
That's what Sylvie Blake's older sister Julia renamed their favorite fairy tale book, way back when they were just girls themselves. Now, Julia has disappeared—and no one knows if she's in trouble.
Sylvie is trying to carry on Julia's impressive legacy at the prestigious National Ballet Theatre Academy, but Julia, ever the star of the show, can't stay hidden forever. And when she sends Sylvie a copy of their old storybook with a mysterious list inside, Sylvie begins to see signs of her sister everywhere she goes. She may be losing her grip on reality, but Sylvie has to find out if the strange, almost magical things she's been seeing have anything to do with Julia's whereabouts.
With the help of her best friend's enigmatic brother and his beat-up car, Sylvie sets out to the beat of a Fleetwood Mac playlist, determined to return to New York with her sister in tow. But what Sylvie doesn't expect to learn is that trouble comes in lots of forms—and that the damsel in distress is often the only one who can save herself.
Maggie Lehrman – The last best story
Wat een mooi omslag weer! Het is zo heerlijk dromerig met een toffe handlettering. Het spreekt me al gelijk aan. Dit boek is wederom een YA contemporary. Ik vind deze wat minder goed klinken dan de boeken die ik hierboven noemde, maar vanwege de cover wil ik het toch wel graag een kans geven. Hij komt uit op 7 augustus.
Rose Regnero was a star reporter for her high school paper, destined for a career in journalism, when she abruptly quit two months ago, leaving behind her very-nearly-sort-of-boyfriend and editor-in-chief, Grant. Now she is trying to be normal at her senior prom, with a new boy and new interests, and isn't looking back.
Grant was totally blindsided when Rose walked away from the Gazette. After all, they'd dedicated their lives to it for the past four years, had even planned on majoring in journalism together at Northwestern—which is why Grant is determined to entice Rose back. But whether it's really to the paper or to him he's not entirely sure.
When an alarm is set off at prom and the school goes on lockdown, Grant discovers that someone is loose in the building with a gun. But Rose, caught outside of the gym, knows differently. Will her instincts for a good story win out against her resolve to leave Grant and the paper behind?
Een hele verzameling boeken die deze maand uitkomen! Naar welk boek kijk jij uit deze maand?