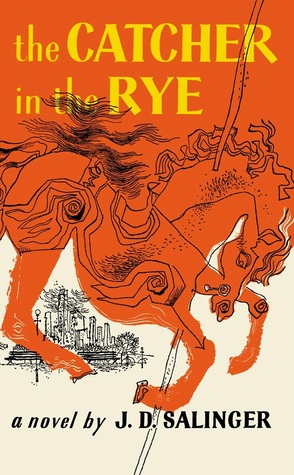 Auteur: J.D. Salinger
Titel: The catcher in the rye
Genre: Literatuur, klassiekers
Taal: Engels
Jaar: 1951
ISBN: 9780316769174
Aantal pagina's: 277
Gelezen: Oktober 2017
♥♥♥♥
Omslagtekst
The hero-narrator of The Catcher in the Rye is an ancient child of sixteen, a native New Yorker named Holden Caulfield. Through circumstances that tend to preclude adult, secondhand description, he leaves his prep school in Pennsylvania and goes underground in New York City for three days. The boy himself is at once too simple and too complex for us to make any final comment about him or his story. Perhaps the safest thing we can say about Holden is that he was born in the world not just strongly attracted to beauty but, almost, hopelessly impaled on it. There are many voices in this novel: children's voices, adult voices, underground voices-but Holden's voice is the most eloquent of all. Transcending his own vernacular, yet remaining marvelously faithful to it, he issues a perfectly articulated cry of mixed pain and pleasure. However, like most lovers and clowns and poets of the higher orders, he keeps most of the pain to, and for, himself. The pleasure he gives away, or sets aside, with all his heart. It is there for the reader who can handle it to keep.

Recensie
Dit is een boek dat ik al jaren in mijn kast heb staan. De versie die ik heb heeft nogal kleine letters, smalle pagina's en marges en zag er niet echt aantrekkelijk uit. Toch leek het me tijd om het boek eindelijk eens uit de kast te pakken. Het is echt een klassieker en ik wilde wel eens weten wat de fuzz was.
Toen ik in het verhaal begon, zat ik er gelijk in. Het is een verhaal dat me direct aansprak. Holden is eigenlijk heel vervelend, maar je leeft met hem mee. Je kunt in zijn hoofd kijken en weet wat hij denkt. Holden gedraagt zich stoer, maar je voelt dat hij toch wel om dingen geeft. Hij wil de wereld laten denken dat hij alles en iedereen haat, maar hij heeft toch een klein hartje. Hij struggelt, vecht met de wereld en de leeftijdsfase die we allemaal doorgemaakt hebben. Ik begrijp waarom dit boek zoveel jongeren aanspreekt, het is herkenbaar. Een fase die moeilijk is wordt hier onder woorden gebracht en geeft je het gevoel dat je niet alleen bent.