Soms kom je boeken tegen die gewoon zó mooi vormgegeven zijn dat je niet anders kunt dan ze oppakken. Veel van die covers kom ik tegen via Instagram. Ik maak dan altijd een printscreen zodat ik de boeken kan opslaan en later kan opzoeken. Ik heb inmiddels zo veel foto's dat het me wel leuk leek om de boeken met jullie te delen!
(Foto's en omslagteksten via Goodreads)


Carrie Hope Fletcher – When the curtain falls
In 1952 two young lovers meet, in secret, at the beautiful Southern C ross theatre in the very heart of London's West End. Their relationship is made up of clandestine meetings and stolen moments because there is someone who will make them suffer if he discovers she is no longer 'his'. But life in the theatre doesn't always go according to plan and tragedy and heartache are waiting in the wings for all the players . . .
Almost seventy years later, a new production of When the Curtain Falls arrives at the theatre, bringing with it Oscar Bright and Olive Green and their budding romance. Very soon, though, strange things begin to happen and they learn about the ghost that's haunted the theatre since 1952, a ghost who can only be seen on one night of the year. Except the ghost is appearing more often and seems hell bent on sabotaging Oscar and Olive. The young couple realise they need to right that wrong from years gone by, but can they save themselves before history repeats itself and tragedy strikes once more?
Heather O' neill – The lonely hearts hotel
The Lonely Hearts Hotel is a love story with the power of legend. An unparalleled tale of charismatic pianos, invisible dance partners, radicalized chorus girls, drug-addicted musicians, brooding clowns, and an underworld whose economy hinges on the price of a kiss. In a landscape like this, it takes great creative gifts to thwart one's origins. It might also take true love.
Two babies are abandoned in a Montreal orphanage in the winter of 1910. Before long, their talents emerge: Pierrot is a piano prodigy; Rose lights up even the dreariest room with her dancing and comedy. As they travel around the city performing clown routines, the children fall in love with each other and dream up a plan for the most extraordinary and seductive circus show the world has ever seen.
Separated as teenagers, sent off to work as servants during the Great Depression, both descend into the city's underworld, dabbling in sex, drugs and theft in order to survive. But when Rose and Pierrot finally reunite beneath the snowflakes after years of searching and desperate poverty the possibilities of their childhood dreams are renewed, and they'll go to extreme lengths to make them come true. Soon, Rose, Pierrot and their troupe of clowns and chorus girls have hit New York, commanding the stage as well as the alleys, and neither the theater nor the underworld will ever look the same.
Sara Holland – Everless

Time is a prison. She is the key. Packed with danger, temptation and desire – a perfect read for fans of The Red Queen.
In the land of Sempera, the rich control everything – even time. Ever since the age of alchemy and sorcery, hours, days and years have been extracted from blood and bound to iron coins. The rich live for centuries; the poor bleed themselves dry.
Jules and her father are behind on their rent and low on hours. To stop him from draining himself to clear their debts, Jules takes a job at Everless, the grand estate of the cruel Gerling family.
There, Jules encounters danger and temptation in the guise of the Gerling heir, Roan, who is soon to be married. But the web of secrets at Everless stretches beyond her desire, and the truths Jules must uncover will change her life for ever … and possibly the future of time itself.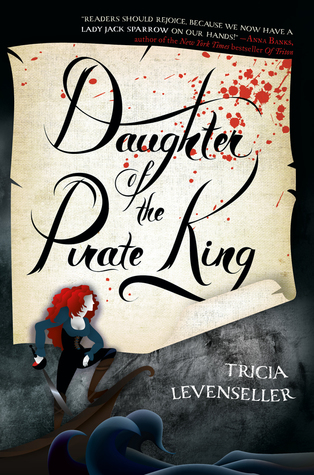 Tricia Levenseller – Daughter of the pirate king
Sent on a mission to retrieve an ancient hidden map—the key to a legendary treasure trove—seventeen-year-old pirate captain Alosa deliberately allows herself to be captured by her enemies, giving her the perfect opportunity to search their ship.
More than a match for the ruthless pirate crew, Alosa has only one thing standing between her and the map: her captor, the unexpectedly clever and unfairly attractive first mate, Riden. But not to worry, for Alosa has a few tricks up her sleeve, and no lone pirate can stop the Daughter of the Pirate King.
Imogen Hermes Gowar – The mermaid and Mrs Hancock
One September evening in 1785, the merchant Jonah Hancock hears urgent knocking on his front door. One of his captains is waiting eagerly on the step. He has sold Jonah's ship for what appears to be a mermaid.
As gossip spreads through the docks, coffee shops, parlours and brothels, everyone wants to see Mr Hancock's marvel. Its arrival spins him out of his ordinary existence and through the doors of high society. At an opulent party, he makes the acquaintance of Angelica Neal, the most desirable woman he has ever laid eyes on… and a courtesan of great accomplishment. This meeting will steer both their lives onto a dangerous new course, on which they will learn that priceless things come at the greatest cost.
Where will their ambitions lead? And will they be able to escape the destructive power mermaids are said to possess?
In this spell-binding story of curiosity and obsession, Imogen Hermes Gowar has created an unforgettable jewel of a novel, filled to the brim with intelligence, heart and wit.
Hebben jullie (een van) deze boeken gelezen?