Soms kom je boeken tegen die gewoon zó mooi vormgegeven zijn dat je niet anders kunt dan ze oppakken. Veel van die covers kom ik tegen via Instagram. Ik maak dan altijd een printscreen zodat ik de boeken kan opslaan en later kan opzoeken. Ik heb inmiddels zo veel foto's dat het me wel leuk leek om de boeken met jullie te delen!
(Foto's en omslagteksten via Goodreads)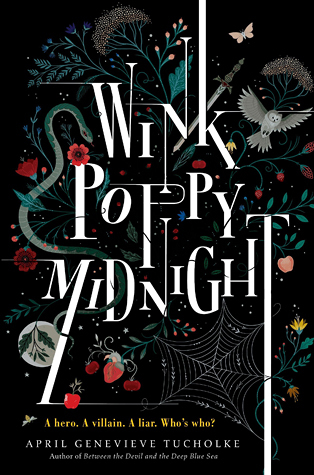 April Genevieve Tuchoke – Wink Poppy Midnight
Every story needs a hero.
Every story needs a villain.
Every story needs a secret.
Wink is the odd, mysterious neighbor girl, wild red hair and freckles. Poppy is the blond bully and the beautiful, manipulative high school queen bee. Midnight is the sweet, uncertain boy caught between them. Wink. Poppy. Midnight. Two girls. One boy. Three voices that burst onto the page in short, sharp, bewitching chapters, and spiral swiftly and inexorably toward something terrible or tricky or tremendous.
What really happened?
Someone knows.
Someone is lying.


Leigh Bardugo – Shadow and bone
Surrounded by enemies, the once-great nation of Ravka has been torn in two by the Shadow Fold, a swath of near impenetrable darkness crawling with monsters who feast on human flesh. Now its fate may rest on the shoulders of one lonely refugee.
Alina Starkov has never been good at anything. But when her regiment is attacked on the Fold and her best friend is brutally injured, Alina reveals a dormant power that saves his life—a power that could be the key to setting her war-ravaged country free. Wrenched from everything she knows, Alina is whisked away to the royal court to be trained as a member of the Grisha, the magical elite led by the mysterious Darkling.
Yet nothing in this lavish world is what it seems. With darkness looming and an entire kingdom depending on her untamed power, Alina will have to confront the secrets of the Grisha . . . and the secrets of her heart.
Sheila A. Nielson – The forbidden sea
When Adrianne comes face-to-face with the mermaid of Windwaithe Island, she is convinced that the mermaid means her harm. After all, the island is steeped in stories of mermaids' curses and the ill-luck that they bring. But Adrianne is fierce-willed and courageous and is determined to protect her family and the islanders from danger. Yet when the islanders find out about Adrianne's encounters with the mermaid, her family is scorned. They believe that once active, the mermaid cannot be quieted until an islander sacrifices herself to the sea. But is the legend true? And will their fear make them force Adrienne to test it? This is a haunting story of love, surrender and strength.
Laini Taylor – Daughter of smoke and bone
In general, Karou has managed to keep her two lives in balance. On the one hand, she's a seventeen-year-old art student in Prague; on the other, errand-girl to a monstrous creature who is the closest thing she has to family. Raised half in our world, half in 'Elsewhere', she has never understood Brimstone's dark work – buying teeth from hunters and murderers – nor how she came into his keeping. She is a secret even to herself, plagued by the sensation that she isn't whole.
Now the doors to Elsewhere are closing, and Karou must choose between the safety of her human life and the dangers of a war-ravaged world that may hold the answers she has always sought.
Nicole Krauss – The history of love
Fourteen-year-old Alma Singer is trying to find a cure for her mother's loneliness. Believing she might discover it in an old book her mother is lovingly translating, she sets out in search of its author. Across New York an old man called Leo Gursky is trying to survive a little bit longer. He spends his days dreaming of the lost love who, sixty years ago in Poland, inspired him to write a book. And although he doesn't know it yet, that book also survived: crossing oceans and generations, and changing lives…
Hebben jullie een van deze boeken gelezen?