Soms kom je boeken tegen die gewoon zó mooi vormgegeven zijn dat je niet anders kunt dan ze oppakken. Veel van die covers kom ik tegen via Instagram. Ik maak dan altijd een printscreen zodat ik de boeken kan opslaan en later kan opzoeken. Ik heb inmiddels zo veel foto's dat het me wel leuk leek om de boeken met jullie te delen!
(Foto's en omslagteksten via Goodreads)

Edward Carey – Heap House (The Iremonger Trilogy #1)

 Clod is an Iremonger. He lives in the Heaps, a vast sea of lost and discarded items collected from all over London. At the centre is Heap House, a puzzle of houses, castles, homes and mysteries reclaimed from the city and built into a living maze of staircases and scurrying rats.
The Iremongers are a mean and cruel family, robust and hardworking, but Clod has an illness. He can hear the objects whispering. His birth object, a universal bath plug, says 'James Henry', Cousin Tummis's tap is squeaking 'Hilary Evelyn Ward-Jackson' and something in the attic is shouting 'Robert Burrington' and it sounds angry.
A storm is brewing over Heap House. The Iremongers are growing restless and the whispers are getting louder. When Clod meets Lucy Pennant, a girl newly arrived from the city, everything changes. The secrets that bind Heap House together beging to unravel to reveal a dark truth that threatens to destroy Clod's world.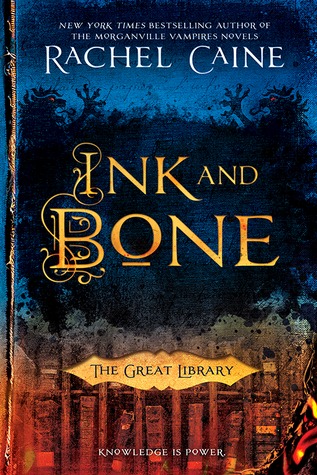 Rachel Caine – Ink and Bone (The Great Library #1)
Ruthless and supremely powerful, the Great Library is now a presence in every major city, governing the flow of knowledge to the masses. Alchemy allows the Library to deliver the content of the greatest works of history instantly—but the personal ownership of books is expressly forbidden.
Jess Brightwell believes in the value of the Library, but the majority of his knowledge comes from illegal books obtained by his family, who are involved in the thriving black market. Jess has been sent to be his family's spy, but his loyalties are tested in the final months of his training to enter the Library's service.
When his friend inadvertently commits heresy by creating a device that could change the world, Jess discovers that those who control the Great Library believe that knowledge is more valuable than any human life—and soon both heretics and books will burn…
 Jenny Nimmo – The snow spider
(Snow Spider trilogy #1)
On Gwyn's 9th birthday, his grandmother tells him he may be a magician, like his Welsh ancestors. She gives him five gifts to help him–a brooch, a piece of dried seaweed, a tin whistle, a scarf, and a broken toy horse. One blustery day, unsure what to do with his newfound magic, Gwyn throws the brooch to the wind and receives a silvery snow spider in return. Will he be able to use this special spider to bring his missing sister, Bethan, home?
Claire Fuller – Swimming Lessons
Ingrid Coleman writes letters to her husband, Gil, about the truth of their marriage, but instead of giving them to him, she hides them in the thousands of books he has collected over the years. When Ingrid has written her final letter she disappears from a Dorset beach, leaving behind her beautiful but dilapidated house by the sea, her husband, and her two daughters, Flora and Nan.
Twelve years later, Gil thinks he sees Ingrid from a bookshop window, but he's getting older and this unlikely sighting is chalked up to senility. Flora, who has never believed her mother drowned, returns home to care for her father and to try to finally discover what happened to Ingrid. But what Flora doesn't realize is that the answers to her questions are hidden in the books that surround her.
 Jessie Burton – The muse
On a hot July day in 1967, Odelle Bastien climbs the stone steps of the Skelton gallery in London, knowing that her life is about to change forever. Having struggled to find her place in the city since she arrived from Trinidad five years ago, she has been offered a job as a typist under the tutelage of the glamorous and enigmatic Marjorie Quick. But though Quick takes Odelle into her confidence, and unlocks a potential she didn't know she had, she remains a mystery – no more so than when a lost masterpiece with a secret history is delivered to the gallery.
The truth about the painting lies in 1936 and a large house in rural Spain, where Olive Schloss, the daughter of a renowned art dealer, is harbouring ambitions of her own. Into this fragile paradise come artist and revolutionary Isaac Robles and his half-sister Teresa, who immediately insinuate themselves into the Schloss family, with explosive and devastating consequences.
Kenden jullie deze boeken al? Let me know!